Buy Deutsche Bahn Railway Light Rails from AGICO
Recently, AGICO received many inquiries about Deutsche Bahn railway light rails from foreign clients. Many of them have been looking for manufacturers of DIN 9kg/m light rail manufacturers china. As a leader among light railroad track manufacturers, AGICO is naturally favored by foreign clients. According to the data, in recent years, the demands for light rails and other ordinary rails have been increasing globally. International standard steel rail price is also rising. In response to this situation, AGICO will increase the production and try our best to meet them. So warmly welcome to contact us!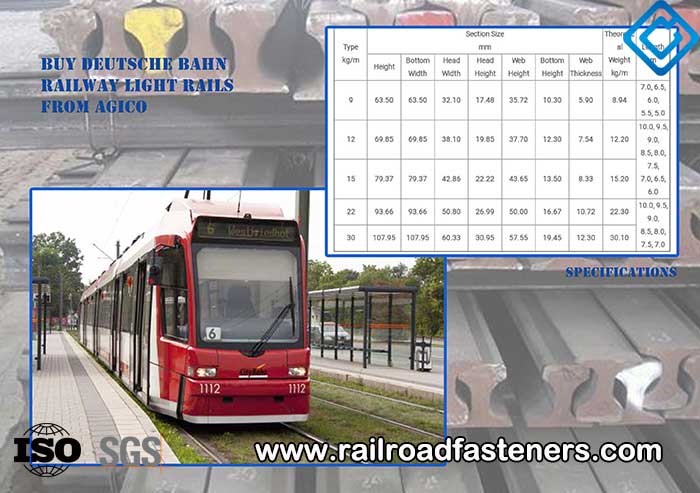 As we all know, the advanced technology of the German railway has been always recognized by the world, so its railway standards have a great influence on the world and the application scope is also very wide. Deutsche Bahn is one of the important parts. German light railroad track manufacturers play a very important role in the world railway market. With the rapid development, Chinese light railroad track manufacturers rise. It is a crucial fact for railway steel rail manufacturers.
As common knowledge, the city is too small to fit the subway system. But the lack of the capacity and existing modes of city transportation lead to traffic jams. It is very hard to solve them. That makes it harder for existing ground transportation and spurns vigorous development of light railways. In 1968, cities such as Frankfurt, Stuttgart, Hannover, Cloner and Essen in Germany refined and extended their tram systems, bringing the Stadtbahn word into a new definition. Deutsche Bahn stands for light railway. Construction of new conventional subway system means to cost hugely. Therefore, a light-rail approach with a higher return on investment has emerged.
Light railway system has the following characteristics:
A. The platform height at underground station is about 900mm, some stations on the ground also use high platform.
B. For other stations on the ground in the block, special facilities are used because certain reasons cannot accommodate high platforms, for example, light-rail trains are provided with movable steps to facilitate the passengers to board 35cm high platforms train.
C. Overhead contact network power supply
D. In special sections, light-rail train speed can sometimes be higher than ordinary ground tram.
E. Compared with ground tram with 2.20-2.40m train width, the light-rail train has a higher requirement on the width of the train body, reaching 2.65m-2.80m.
F. The minimum curve radius of the light- rail lines can reach up to 25m.
G. Light-rail track can adopt special track completely (Including ground, elevated and tunnel lines) or independent tracks in road area or the track buried in mixed traffic roads. The light-rail lines are slightly higher than the block pavement (5cm), and use special colors In light of traffic jam. Light-rail lines can also be used as road transportation.
H. As international standard steel rail price, light-rail lines are much cheaper.
Rail is the most important part of light railway system. Tracks are usually described in terms of weight per unit length. The minimum weight per meter of track depends on the maximum sectional area of the axle load of the trains to be orbited. In general, the heavier the track, the heavier the rest of the track is, and the smoother the train travels and the faster it travels. Rail cost accounts for a large part of the total cost of the light-rail lines. Because light railroad track manufacturers can only have a few types of rails at one time, the railway must choose the most suitable size.
The light-rail specifications of DIN series include: A45, A55, A65, A75, A100, A120 and A150. The light rails adopt DIN536. They are made of the materials of ASSZ-1/U75V/U71Mn /1100/900A/700 steels. The length range is generally from 8m-25m. At present, DIN rails made in China include: A45, A55, A65, A75, A100, A120 and A150 in line with DIN536. Light rail materials: Q235 and 55Q, their specifications include: 8kg, 9kg, 12kg, 15kg, 18kg, 22kg, 24kg and 30kg. Heavy rail materials: 45MN and 71MN, their specifications include: 38kg, 43kg, 50kg and 64kg. Crane rail materials: U71MN, U71, U74, U71Cu, U70MnSi and U71MnSiCu, their specifications include: QU70, QU80, QU100 and QU120. Din 9kg/m light rail manufacturers china are very familiar with the above standards.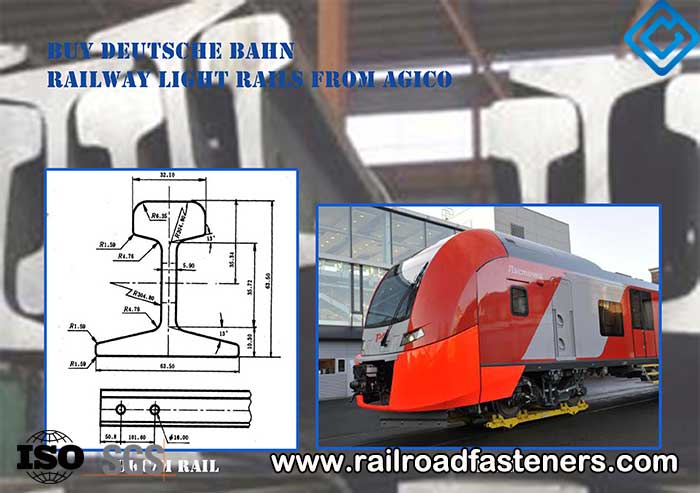 Of course, with the revival of the railway industry, the global demands for heavy rail and ordinary rail have also increased in addition to light rail. Heavy steel train rail made in china is welcomed. In recent years, the global railway market has grown at a rate of 5% (Output). Although the growth rate is considerable, steel prices have been falling sharply since 2012. And the global railway revenue market has shown a downward trend. In the meantime, the price of steel in 2016 soared and the global revenue market showed a growth of 15.54%. In 2022, global railroad production is estimated at 16.7 million tons with a market size of 809 million U.S. dollars.
AGICO has the advantage of producing all kinds of rails and its ability to provide clients with high-quality and cheaper rail products. We ranks at the leading positions among Din 9kg/m light rail manufacturers china. And heavy steel train rail made in china is walking into the world. AGICO is major in railway accessory products with good quality such as steel rail, crane rail, rail fastening systems, rail fishplate, rail tie plate, rail bolt, railroad spikes, steel dog spike, etc. They are exported all over the world. Depending on more than ten years export experience, Knowing international standard steel rail price, we can offer the most competitive price and highest quality for our clients all over the world because we are leading among railway steel rail manufacturers. In the other side, we can deal with international business freely because we have an experience team in the international department. Of light railroad track manufacturers, we are excellent and can offer the best service for our customers. We sincerely seek for reliable cooperators abroad to market the world. Welcome to contact with us!