In metalworking industry, casting is an important technology in which a liquid metal is sent into a die that contains a hollow shape of the intended product. The metal is poured into the die through a hollow channel. The metal and die are then cooled, and the metal part (the casting) is extracted. Casting is most often used for making complicated shapes that are difficult or uneconomical to be made by other methods. In the field of rail fastener manufacture, many products have to be made by the casting method, for example, tie plate made in china, base plate, rail shoulder, rail anchor, rail clamp, rail brace, just a few names to come. Thus, as one of the leading railway fasteners manufacturers in China, our casting technology power will undoubtedly decide whether we can master the future of the industry or not.
Why Do We Introduce New Casting Production Line?
Background
With the continuous development of Chinese national economy and the railway industry, the requirements for rail fasteners have become higher and higher in recent years. The products produced by railway fasteners manufacturers not only require good metal materials, but also require high dimensional accuracy. Therefore, the original equipments and technology can no longer meet the needs of domestic and foreign markets. Only adopting new processes and equipments can meet high requirements of fastener quality and output. For the majority of railway fasteners manufacturers, the introduction of advanced production line is a matter of no delay. It is in this context that AGICO has introduced a new casting production line of railway fasteners.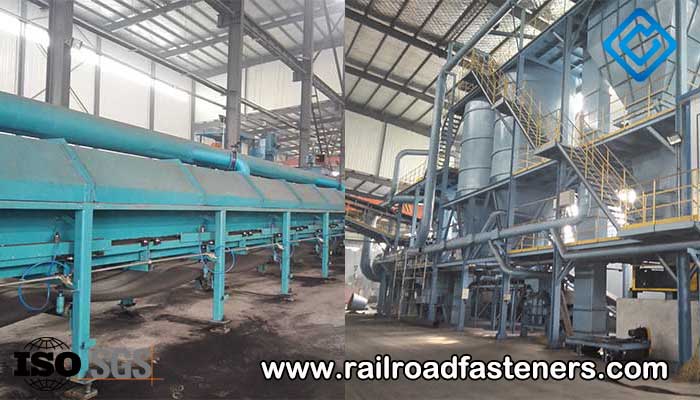 Upgrade of enterprise power
A. Innovation of design and manufacture of casting production line
The design level of casting equipment has been greatly improved in China. Chinese researchers and senior engineers have mastered and possessed the capabilities of designing and creating new technology and equipments. They are able to not only design high-level molding lines, but also have on-site hands-on capabilities. Through continuous improvements, a number of well-configured and reliable performance modeling automatic lines have been designed in China. This makes the equipments more and more simple in structure and the process becomes better and better.
B. Bright marketing potential
The railway construction is inseparable from the "support" of railway fasteners. In China, the railway fastener industry is one of the industries with intense competition. According to incomplete statistics, there are about 50 railway lines in 15 cities including Beijing and Shanghai, and 1,154 kilometers of railway lines are under construction. With the increasing marketing capacity of railways and subways, the market demand for railway fasteners is accelerating.
Though railway construction cannot be separated from the role of railway fasteners, not all specifications and models of railway fasteners are suitable for railway construction. The strength of some ordinary railway fasteners cannot meet the track vibration of high-speed train. Railway and subway require high strength rail fasteners. With the continuous increase of high-speed railway construction in China, the demand for high-strength railway fasteners will also increase rapidly.
With the high-speed railway projects' gaining the orders in the world, China's high-speed technology has been widely recognized by the international community. China's high-speed technology has entered a leading position in the world. And the high-speed railway lines built in China have exceeded 50,000 kilometers. As China's high-speed railway projects have entered many countries on all continents, it will also inevitably lead the rapid development of the railway fastener industry. Rail fasteners are an important guarantee for the safe operation of trains, accounting for a considerable proportion of railway construction.
Advantages of New Casting Production Line
Taking railway base plate manufacturing process as an example, in the past, we need to spend much time and cost in repairing and maintaining the equipments. The production cannot keep the continuous operation. Now using new production line, we better solved the problem in casting. We can optimize the design to your weight, strength and performance targets using the most capable and economic casting technology.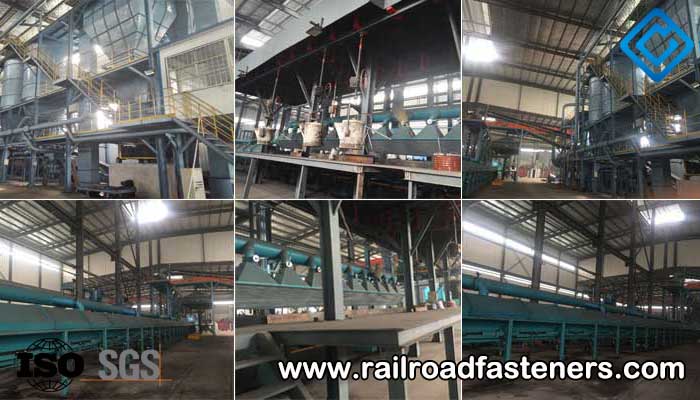 Continuous improvements in our production methods have led us to make sizable capital investments in new equipments and production line. We continually spend much in our technical team. Our engineers always stand on top of developing trends and technologies so that they can receive the highest quality and produce the most efficient products.
Our technical team in the castings industry tends to have unique production methods to manufacture serial and/or complicated components when the equipments and technologies are a main factor in production costs. In addition, railway fasteners manufacturers face stiff competition and therefore must meet customer supply times, provide high-quality railway products and meanwhile be profitable. In order to face these challenges, the railway fasteners manufacturers in the castings industry must have a specific and unique solution for the management of a cast production system that will lower production costs.
AGICO Group owns rich experience and advanced equipments in manufacturing industry of rail fasteners. Now we have manufactured many rail products for foreign clients and stored many ready-made dies. In addition, we can make various customized rail fasteners in strict accord with different standards or according to the drawings and requirements of clients.
As a professional railway fastener enterprise, AGICO Group is major in railway products with good quality such as rail, spring clip fastener, rail fastening systems, rail fishplate, rail tie plate, rail bolt, railroad spikes, steel dog spike, etc. We sincerely seek for reliable cooperators abroad to market the world. Welcome to contact with us! We will provide you with sophisticated, rapid and optimized results.