Fish plate, also called rail fishplate or rail joint bar or splice bar, is a metal bar bolted to the ends of two rails to join them together in a track.
With over two decades dedication and experience, AGICO is able to provide you with all kinds of fish plates, being a major product series, such as: common fish plates, insulated fish plates, bulged fish plates, compromised fish plates, and glued insulated fish plates, etc.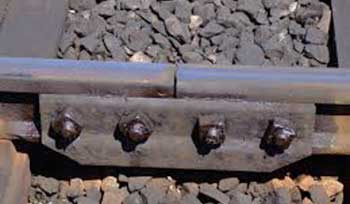 AGICO owns two fishplate rolling lines including a Φ450 rolling line and the other Φ300 rolling line which guarantee the annual production capacity of 20,000 tons of various ordered railway fishplates. 123 workers and 22 technicians are working at the production mill, including 2 senior engineers with over 30 years' experience and unique insight of the development of fishplates. Based on the experience of the design and development of customized 14 kinds of Chinese and 21 kinds of foreign fishplates in the past 20 years, AGICO's technical team masters main countries' standards and can make special adjustments and modifications by transferring to most equivalent Chinese raw material, work out process layout and guarantee quality control according to special requirements of each standard to save cost and fulfill satisfying purpose for all our clients.
Our railway fishplates enjoy the advantages of study construction, strong resistance against corrosion and high strength. They are extensively used in the construction of railway tracks for their sturdiness, better service life, and capability of bearing heavy load and extreme weather conditions. Our fish plates are up to international standards, such as BS, UIC and DIN, etc. Moreover, they can be customized according to your specific requirements.
AGICO focuses on the research and manufacturing of railway fish plates. We develop customized products following customers' special requirements and we are always ready to serve you. Besides, we manufacture relevant fish bolts and nuts to match the fishplates as well.
Any of your feedback is of great importance for us! We are looking forward to your contact with us at any time.
Total 1 Page7 Records